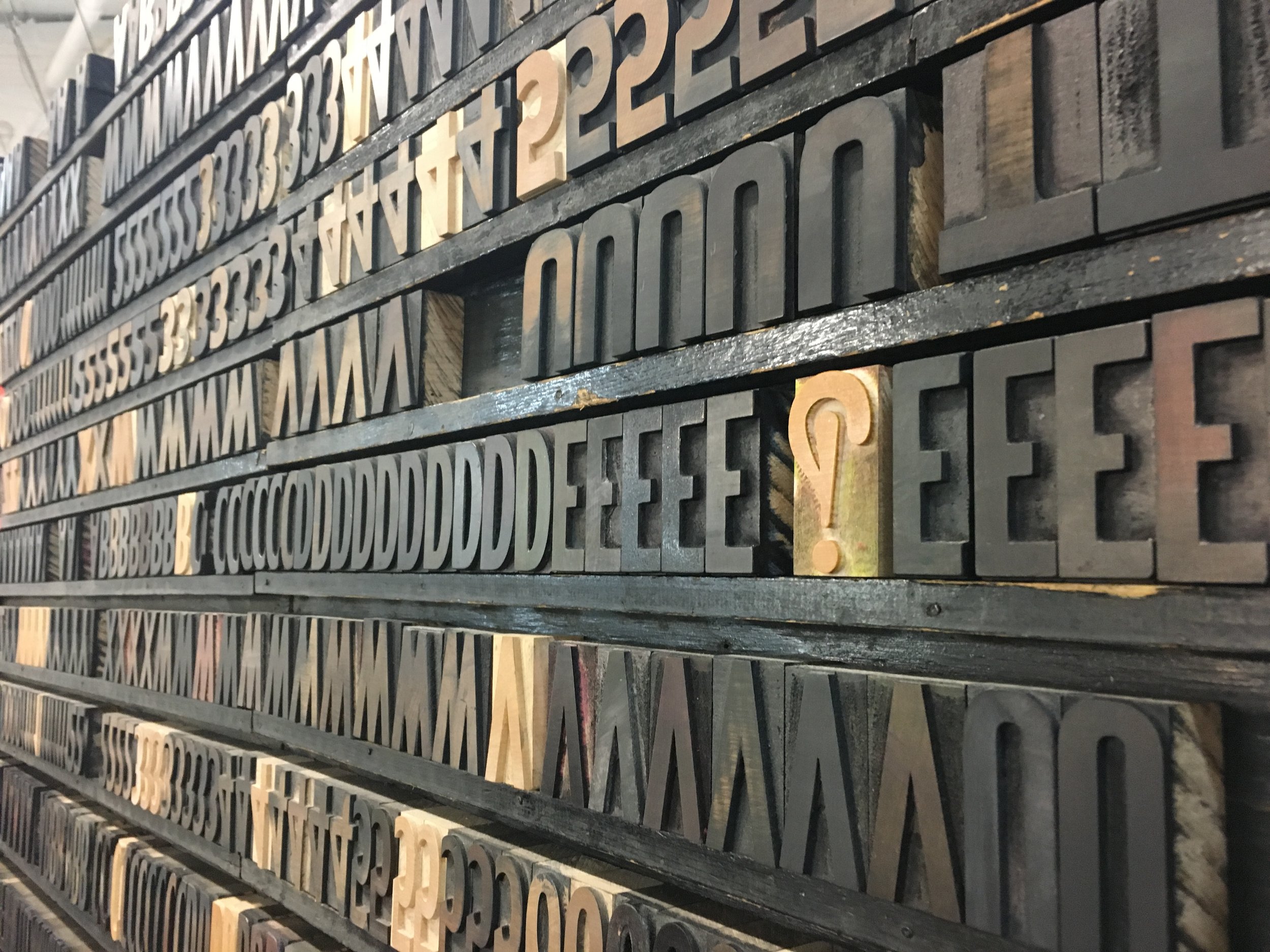 INTERROBANG ‽
Interrobang Wayzgoose* is a regional festival of Book Arts. Printers and book enthusiasts gather to hear talks about the artistry and industry in book arts.
The public is welcome to attend presentations and demonstrations, shop in the marketplace, tour Book Arts Collaborative and Tribune Showprint Posters, and meet with visiting book arts enthusiasts.
We host a marketplace where people sell their work, printers' and binders' tools, art materials, etc. Representatives of Hatch Show Print in Nashville, TN; Firecracker Press in St. Louis, MO.; Younder Bound in Indianapolis, IN; Moore Wood Type in Columbus, OH; and Muncie's own Tracy Jarrett, paper decorator, have exhibited in our marketplace.
Interrobang is a 1.5 day event, starting on Friday evening and running throughout the day on Saturday.
Vendors, Visitors, Students, Scholars, Speakers, and Countrymen! CLICK BELOW FOR INFORMATION ABOUT THE 2019 - 2020 INTERROBANG EVENT.
*An interrobang was invented by designer Martin K. Speckter in 1962. It combines a question mark with an exclamation mark, and Speckter meant it to express extreme bewilderment. At Interrobang Wayzgoose, we prefer to think it means extreme curiosity.
*A wayzgoose (or wayz-goose, waygoose or wayzegoose) was at one time an entertainment given by a master printer to his workmen each year on or about St Bartholomew's Day (24 August). It marked the traditional end of summer and the start of the season of working by candlelight. We celebrate Wayzgoose at Book Arts Collaborative on the eve of summer, when our students will disperse for the season.